In 2003, police in Warwickshire, England, opened a garden shed and found a scared and malnourished dog. It had been locked in the shed and abandoned.  In an act of kindness, the police took the dog,  a female greyhound, to the nearby Nuneaton and Warwickshire Wildlife Sanctuary.  The sanctuary is run by Geoff Grewcock and known as a willing haven for animals abandoned, orphaned or otherwise in need. Geoff Grewcock and the other sanctuary staff helped to restore the dog to full health, and to win her trust. It took several weeks.   They succeeded.   They named her Jasmine, and they started to think about finding her an adoptive home.
What's very interesting about Jasmine, is she started befriending any animal that came to the sanctuary.  Even a 5 Week Old Doe, pictured above.  Jasmine sort of became the baby doe's surrogate  mother.
"They are inseparable," says Geoff Grewcock. "Bramble walks between her legs and they keep kissing each other. They walk together round the sanctuary. It's a real treat to see them." Jasmine will continue to care for Bramble until she is old enough to be returned to woodland life. When that happens, Jasmine will not be lonely. She will be too busy showering love and affection on the next orphan or victim of abuse."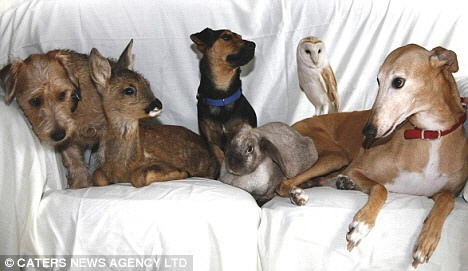 Stay at Home father to 3 rough and crazy boys.I dabble in everything from hosting, to software design. Enjoy Teaching, blogging and marketing.

Latest posts by baby animals (see all)