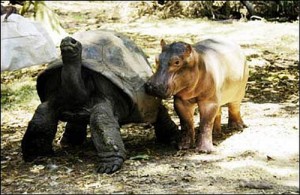 This sounds like a fantasic tale of fiction, but it is true.  A centruy old tortoise (Mzee) adopted,
if you will, a lone baby hippo (Owen).  They swim together, sleep together and eat together. 
I've read this amazing story so many times, I figured it was time to feature it on BabyAnimalz.
For more information, please visit the owenandmzee.com

Stay at Home father to 3 rough and crazy boys.I dabble in everything from hosting, to software design. Enjoy Teaching, blogging and marketing.

Latest posts by baby animals (see all)